5 Reasons Why You Need to Be Mobile Ready for 2014 (Part 2)
Ingnoring the market of mobile searching is just as horrible as turning your customer away
Across the web, there are countless articles and presentations that share why the imminent future is mobile and how to initiate and track mobile marketing and advertising. So, yeah, mobile is pretty big.
4.Mobile and the Immediacy of Purchase
Perhaps the biggest takeaway from the report, and one that every business should consider, is the way customers are adapting their purchasing decisions based on mobile usage.
Given that research and validation by peer reviews across social networks are now just a finger swipe away, consumers are far more immediate when it comes to purchases instigated by mobile search versus desktop browsing.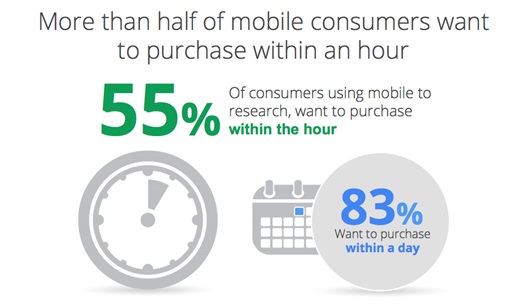 Within an hour of validation (research, search, peer recommendation), 55% of consumers will make (or want to make) a purchase;
As many as 83% will make (or want to make) a purchase within 24 hours.
So, more than half of your potential target customer want to be at your store within an hour, and another 30% want to shop with you the next day. Do you really want to be the business that's turning this away?
5. Mobile and the Point of Purchase
If the above statistics aren't starting to paint a pretty graphic picture of how mobile is driving consumer behaviour, then you might as well ignore the following data, since clearly your business is one that doesn't see the bigger (and smaller) picture of why mobile is so key to your future strategy.
If, however, you've been starting to take notes on how to get the right team to start implementing your mobile strategy, this one's for you.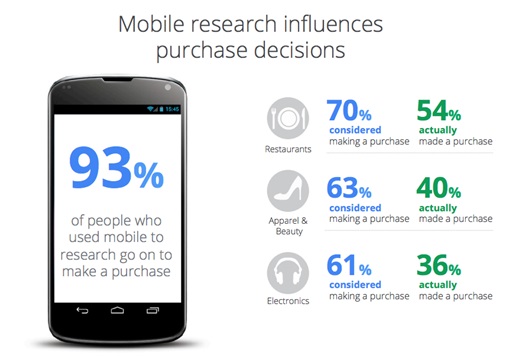 Despite mobile browsing accounting for the majority of research and validation, most purchases are still made in-store, with mobile driving up foot traffic for those businesses with a strong mobile strategy in place;
93% of mobile searches and research result in a purchase of a product or service;
When it comes to purchasing, 82% purchased directly at a physical storefront, 45% waited until they were online via desktop or tablet, and 17% made a purchase there and then on their handset.
Make no mistake – mobile drives business as well as traffic.
What This Means for You
The fact that mobile research is catching up on "traditional computer research" has already been proven. This also indicates the keys point of future consumers' purchase behavior are: Awareness, Research, Validation, Intent, Purchase.
With consumers spending more and more time on mobile device, and also depending on mobile device to determine what product to purchase, business owners have no reason not to have a mobile strategy. To be more precise, it is time to consider and evaluate the importance of having a mobile strategy while the countdown of revolutionary mobile time has already begun.